Membership
We welcome your interest in joining UUCE.  The steps are:
Attend Faith Forward: Inquirers

or develop an understanding of Unitarian Universalism
Contribution – making a contribution of any amount confirms your commitment to the church
Signing the Membership Book – you enter into belonging with the free church tradition of 'signing the book', an historic record of all members of the church.
When you join UUCE, you strengthen yourself and our Unitarian Universalist presence in the world.  It is a commitment to a radically free religion.  It's to stand up for free thought and tolerance.
We believe these steps can lead to a lifetime of inquiry, depth and reverence, and the support of welcoming community.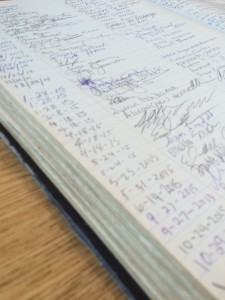 Membership is…
Worshipping together
Building friendships
Working on justice projects
Offering service to the church
Pledging
Connecting to the larger UU movement
Shaping the direction of the church by voting in annual meetings
To become a member is to belong to a faith community. We invite you to join so that together we can examine the meaning of our lives and beliefs, and discern where we are called to help.
As members we agree to be guided by Unitarian Universalist values.
We covenant together as caretakers of this church. It takes the whole of us to make the holy.
The Path to Membership
Think of membership as an ongoing journey to deeper community and deeper faith… a journey along a path.
If you are new, we encourage you to worship with us and to explore various church activities, classes and events that appeal to you.
Visitors and newcomers as well as long-term congregants are invited into deepening relationships — to their own inner prompting, to the church and to service, through membership. To help you learn a bit more about our community of faith, to meet our minister, and to have your questions addressed, we offer the following as part of our Membership Program.
Faith Forward: Inquirers
The Inquirers Series is offered every Sunday in the Chapel. Eight topics are covered, one per session, and repeated throughout the year, drop-in anytime. The series is designed for visitors and newcomers who are looking for a general introduction, and yet the sessions are also appealing to long-time members who want more information about our church. The goal of this series is to provide an understanding of our church and Unitarian Universalist history and practices.
Sign our Membership book
If you are ready to join, we ask you to sign our membership book.  This is available on the first Sunday of every month in Rev. Sydney's office at 9:15, please bring your completed enrollment kit forms, which you can find in the pamphlet rack.
Pledging
Members are asked to pledge generously within their means. What does that statement mean? As a member of UUCE, you are asked to look within your heart and determine for yourself the financial commitment that calls you to generosity. In making this decision, we invite you to reflect upon the church's role in your life, the church's needs, and your own financial situation. It's up to you to determine a pledge amount that is generous for you to make. This amount will be different for everyone, as we are all at different points on the financial spectrum. But the encouragement to give generously applies equally to everyone.
New Member Sunday
We look forward to greeting you!
New Member Welcome Sundays are held two to three times throughout the year and include a brief ceremony introducing you and welcoming you into the congregation of Unitarian Universalists in Eugene. After signing the Membership book you will will be emailed a Save the Date invitation.
More Questions about Membership?
Please contact Membership Chair Erin Troberg, erintroberg@gmail.com, 541-870-2054
or Rev. Sydney minister@uueugene.org