Communities within Community – Connect, Grow, Serve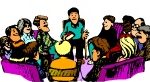 What is Small Group Ministry (SGM)?
Purposes
The purposes of the SGM program are to build community with deeper connections and friendships, to explore personal and spiritual growth, and to provide service, implemented through a series of meetings with a small group of people.
Why is it named Small Group Ministry?
Group size is limited to enhance the opportunity for personal sharing and the development of trust and friendships. As we share our own truths and listen to the truths of others our connections deepen, and we are better able to lend care and support and to "minister" to each other. Each group also does a service project, which broadens our ministry and adds meaning to our lives by contributing to the well-being of others.
Distinguishing SGM characteristics
Each group has a facilitator trained to lead in an environment of open exchange, kindness, and trust.
The members of the group agree to a covenant (agreement) about how we treat each other, including elements related to respect, privacy, attendance, and time keeping.
The groups follow a specific meeting structure.
Group size is up to 10 people.
Any member or friend of the church may register.
The groups meet for 2 hours twice a month for a specified number of sessions, and then disband.
The topics of the sessions are a means to get know each other, and to explore values, beliefs, and experiences.
Most of the time is spent in respectful listening to the sharing.
Each group does a service project for the church or the larger community.
A Small Group Ministry is different from a discussion group, study group, debate society, therapy group, committee, or an affinity group based on a specific area of interest. Its purpose is not to solve problems.
What is the meeting format like?
Opening: Each meeting starts with chalice or candle lighting or sounding a chime and a relevant reading.
Check-in: Each person is asked to share how s/he is feeling.
Readings: Quotes, questions, and readings are provided to stimulate responses to each session's topic.
Sharing: Each person has a time for uninterrupted sharing of his/her responses, as a reflection of his/her individual journey. After all have shared there may be time for open discussion if the group agrees.
Administrative matters.
Check-out: Likes and wishes from each person, how s/he is feeling.
Closing: Reading, extinguishing the flame or sounding a chime, and optional closing ritual.
Frequently Asked Questions:
How is the SGM Program organized at UUCE?
UUCE initiated its SGM program in 2003. It is directed by a steering committee working closely with the Minister. They select and train facilitators and develop topics for the sessions. For more information click here: UUCE SGM Facilitator Training Manual, revised 11-20-17, corrected 1-20-18
or find this attachment at the bottom of this page.
Are Small Group Ministries unique to our church?
Small Group Ministry Programs are thriving all across the country in our denomination. They have been hugely successful in creating a true sense of community in UU churches, especially congregations whose size has grown to the point where it is difficult to know everyone. More information is available at
How do I find out more about Small Group Ministry at UUCE?
Theme and topics
For church year 2018-19 the overall SGM theme is: "Currents of Life."
Topics will be inspired by our various monthly church worship themes. Proposed topics of the SGM sessions include: Family, Journey, Curiosity, Sanctuary, Wholeness, Vision.
How do I join a Small Group Ministry?
For church year 2018-19 the SGM groups will meet for 2 hours twice a month from January 2019 through May 2019, and then disband.
Registration will occur after the church service on four Sundays: Oct. 21 and 28, Nov. 4 and 11, 2018.
You may also get a registration form by calling our church office at 541-686-2775 or by printing the SGM Registration Form 2018-19, revised 10-1-18.pdf after opening the attachment at the bottom of this page. Registration forms are due by Nov. 11, 2018.
Web page revised October 11, 2018, by Dick Loescher
UUCE SGM Registration Form 2018-2019, revised 10-1-18
UUCE SGM Covenant of Right Relationship, other information, 11-20-17
UUCE SGM Facilitator Training Manual, revised 11-12-18
SGM Steering Committee 2018-2019
Bonnie Koenig
Dick Loescher, chair (info-sgm@uueugene.org, 541-485-1157)
Connie Newman
SGM Facilitators 2018-2019
To Be Announced