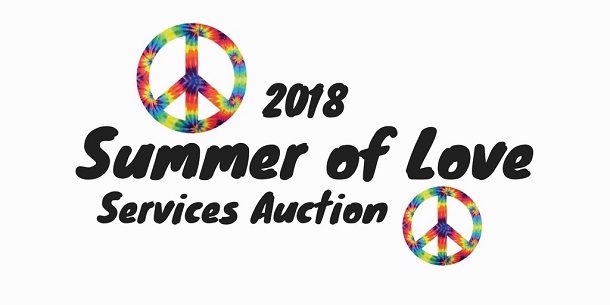 A HEARTY THANKS to all who participated in making the UUCE Services Auction a success! More than 100 adults, as well as 16 kids who attended the Mad Hatter's Tea Party, made generous bids, purchased beads and raffle tickets, dined and dressed like hippies to celebrate the Summer of Love.
Innumerable volunteers prepared and served food and drink, bussed tables, washed dishes, entered data, collected payments, cleaned up and created fun activities for adults and kids alike. And more than a dozen households added to their tie-dye collections with napkin sets created during Spirit Jam. There was even energy left during check-out to dance the Hustle.
The evening was filled with fun, laughter, and connection!  What a way to welcome in a Summer of Love! To see a list of Event Dates,click here. 
.