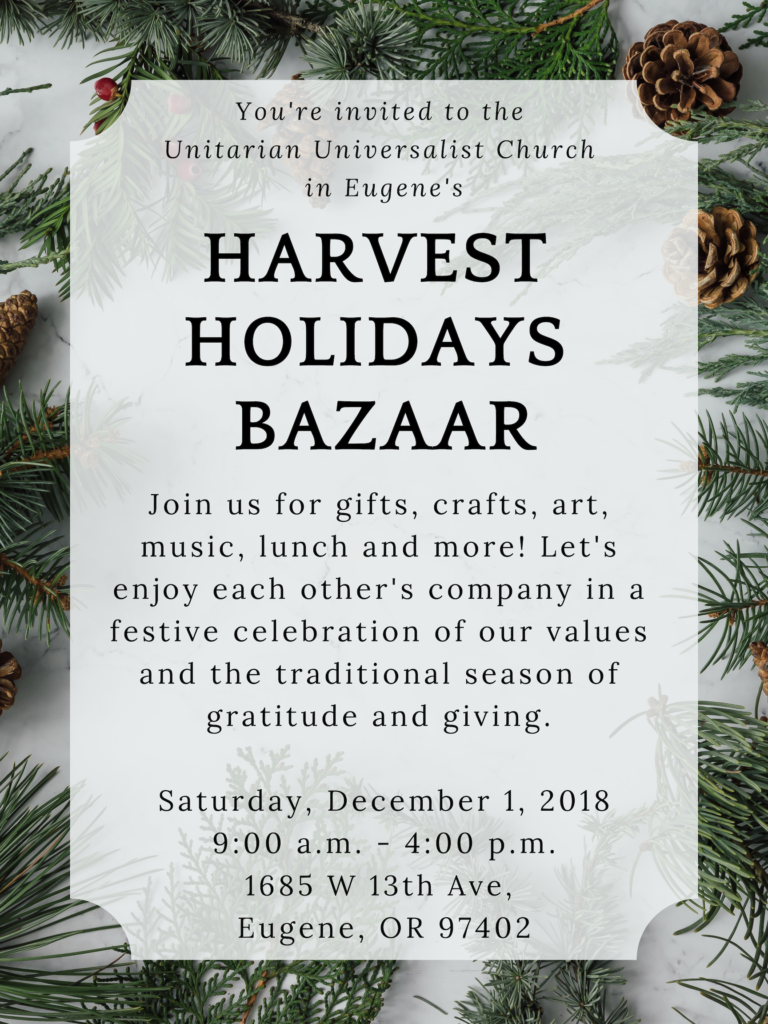 Let your children make gifts or make your own, peruse the art gallery, and then take a break to eat lunch and listen to music! We offer lots of one-of-a-kind gift possibilities:
Quilted wallhangings, other items – George Carroll
Bodycare, including soaps, creams – Barb Marlatt, Cedar Knoll Body Care
Jewelry, including fun artisan recycled tin – Cindy Clair
Postcards, cards, memorabilia – Vanessa Farrell
Celtic art – J Grace Hart
Children's multicultural books, games, puppets – Tanja K Petal, Barefoot Books
Cards and art – Scott Hovis Fine Arts
Ceramic hearts – Susan Fairbanks
Portrait photography/photo booth for you and your family – Steve Kuzma
Colorful necklaces, bookmarks, tree ornaments, magnets – Lauren Abbott
Handmade wood items, from practical to beautiful – Mike Ronczyk
Beadwork and crafts from clients of Thembanathi (South African charity) – Helen Towle
Plus wonderful, high-quality, previously loved (not garage sale!) gift items, baked goods for sale, and the opportunity to create your own gifts.
Light lunch for sale. Free entertainment. Children welcome!
Volunteers
Sign up here to help on Saturday!
Provide handcrafted items, homemade preserved foods, and specialty baked goods! Sign up here or call Judy Shaw at 541-359-6074
Give your lightly used treasures to the Re-Gifting Store! Call Janell Heidenreich at 541-607-9110
Donate a work of art for the Art Gallery! Call Scott Hovis at 541-731-3412
Entertain the crowd with 30 minutes of your music! Call Jean Cottel at 541-954-9799
Questions? Email us at bazaar@uueugene.org