Here are comments Sally and Dave DeCou provided during church service on February 12.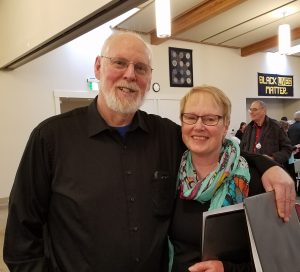 Sally
A few Sundays ago, we had the privilege of sitting in the choir for the service, just as we are today. I looked out on the congregation and thought, "Who are all these people?" When Dave and I came to UUCE in 2001 it was a warm group sitting up on the hill at 40th and Donald in our tree house. We quickly learned most names and recognized everyone there. The messages we heard and the friends we made have helped us move in a positive direction in our lives, so we became quickly involved.
That group of people had a vision that we wanted to spread the warmth and values of our congregation to others in Eugene. We were out of the space that we needed to be the welcoming congregation we wanted to be. Because of this vision, – after much contemplation and discussion, – we took a leap and found this location. If you are new you probably have heard stories of what it took to transform this place – which was a gloomy cave – into a place of light, learning and community.
It was a privilege to participate in that process with our labor and financial gifts. We continue because we think this congregation is making this community and the world a better place. We can do so much more with the support of everyone here than we could possibly do alone.
Now when I look out and see all your faces I am awe struck. I had no idea how many people were looking for this church. I know that this was meant to be. Our vision is for all of you and I hope you have a vision for those to come. It takes work and money to keep this church going.
Dave
Recently I was paying for parking in an Eugene Parking structure when I was surprised by an apparent LCC student who was rushing to tell me that because in 15 minutes they stop charging for parking there I need not pay, "they never check this late in the day". I thanked her but thought, but who will pay for this parking structure and its maintenance? It is the collective "we" who will pay or there will be no parking structure.
I have heard Rev. Sydney speak of our church as being a "Free Church" and after some thought realized that she was speaking theologically, our values and thoughts are free to be whatever we wish, provided we behave within the Seven Principles, we have no creed.
But this "free Church" is not free to use and not pay for. It simply will not be here unless we support it with our money and our time. Sally and I have chosen to give both, and while we are glad for the giving there is so much more we receive back because it is here!