We are very proud of our beautifully remodeled building
— and want to share it with you!
We offer rooms in various sizes to accommodate groups from 5 people to 500, and a fully functional kitchen. The Sanctuary features flexible seating on comfortable chairs as well as a state-of-the-art sound booth perfect for performances, presentations, or lovely background music.
The building is shown by appointment.
Our Rental Administrator, Jody Monegan, will be happy to discuss your group's unique needs and find the best possible space for you. You can reach Jody during office hours at 541-686-2775 x3, or by emailing rentals@uueugene.org.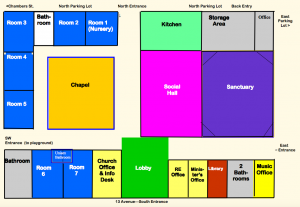 Floor Plan – download as PDF
1685 West 13th Avenue, Eugene, OR, 97402 — (541) 686-2775 — rentals@uueugene.org