Rev. Kimberly Wootan
Rev. Kimberly is our minister in July and August, covering the transition time from the leaving of Rev. Dr. Sydney Morris at the end of June and the arrival of Rev. Lois Van Leer, who officially starts in September. She was the Ministerial Intern at UUCE in church year 2015-2016 and the Congregational Life Facilitator during church year 2017-2018. She was ordained here on May 6, 2018.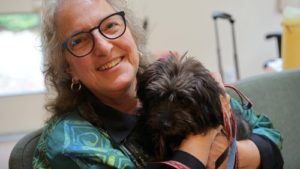 Rev. Lois Van Leer, our Developmental Minister beginning September 2018
The Board was delighted to make this announcement on May 27. She will arrive at UUCE on August 15 and have a two week overlap with our summer minister, Rev. Kimberly Wootan. Information about Rev. Van Leer is available on her website, revlolo.com, and in the UUCE June newsletter.