The Rev. Sydney A. Morris, our Developmental Minister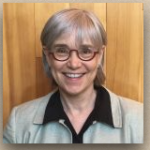 We are blessed to have Reverend Sydney lead UU Eugene into its next chapter. After the purchase and 4-year renovation of a new building, the church is increasingly fulfilling its members' dream of being a welcoming community center serving a broad group of people.
A life-long member of UU, as a child Sydney experienced a deep connection between music and faith as a member of what is now the Chicago Children's Choir (which began at UU First Church) singing with the Chicago Symphony and Lyric Opera.
After a career as a counselor, Sydney received her M.Div. with distinction from Harvard Divinity School and was ordained in 1986. In 2009 she was awarded a Doctor of Ministry degree from Meadville Lombard Theological School for her work in ethics.
Here's an example of Reverend Sydney speaking.

While the minister of her congregation in Ames, Iowa, she received the "Woman of the Year Award" from Iowa State University. Among other achievements, the award recognized her lobbying on television and in Washington D.C. for gun control through the Brady Bill. She also procured a proclamation from the US House of Representatives to commemorate the deaths of eight students at Iowa State University during a shooting in which the daughter of one of her congregants was rendered quadriplegic.
Sydney has directed numerous RE programs which reflect her concern with social justice issues. She created the curriculum "Values-Based Financial Practices for UUs." Her work with social causes has been extensive at both local and global levels. In addition to working with local food banks, she served on United Nations and Homeless shelter boards, and founded and co-chaired the Unitarian Universalist Minister's Association's Socially Responsible Investing Committee. She continues to serve as a trustee for a socially responsible investment company, focusing on governance.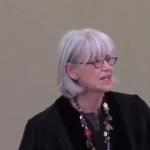 The position of developmental minister has been established by UUA local and national leaders to meet the unique challenges of churches in our state of rapid growth—those with a history of short-term ministers and issues of stewardship and governance. The UUA Transitions Office selected Sydney because of her appropriate experience, skills and keen interest in the particular concerns of our congregation. Unlike an interim or settled minister, as a developmental minister she is appointed for 3-5 years, reviews church progress annually, and can continue on as settled minister if she and the church agree.
Sydney's charge, which she enthusiastically accepts, is to guide and support UUCEers in continuing and strengthening the already significant advancements we have made. While carrying out the normal responsibilities of a congregational minister in service to the mission of UUCE, including worship and pastoral care, she will also assist us in developing our culture of generosity, welcoming and respect. That will include building and maintaining stewardship capacities; developing ways for people to be heartily welcomed into membership and congregational life; and, collaboratively working with the Board to ensure right relations and good governance are clarified and honored.