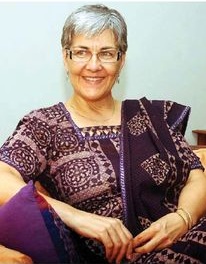 Sunday, February 18, 11:30am – 
Room 7
On February 18 the UU Refugee Sanctuary Project welcomed guest speaker, Dr. Patricia Omidian, who talked about her experiences living and working in Pakistan and Afghanistan from 1997-2007.
Pat is a medical anthropologist with an applied and research emphasis on displaced populations under stress, primarily among Afghan refugees. Over the years, she has worked for such international organizations as Save the Children (in Afghan refugee camps in Pakistan and as the Children and War Advisor in Afghanistan), UNICEF, the World Food Program, UNAIDS, UNWOMEN and the International Rescue Committee (IRC). She has worked with returnees to Afghanistan, including internally displaced persons, under the Taliban and post 9/11.
She has conducted research and implemented intervention programs on trauma and psychosocial wellness in Pakistan and Afghanistan and has given workshops and presentations in 13 countries in Asia, Europe, Africa, and North America. She returns to work in Pakistan every year.
We were fortunate to have her in Eugene during one of her visits to the U.S.