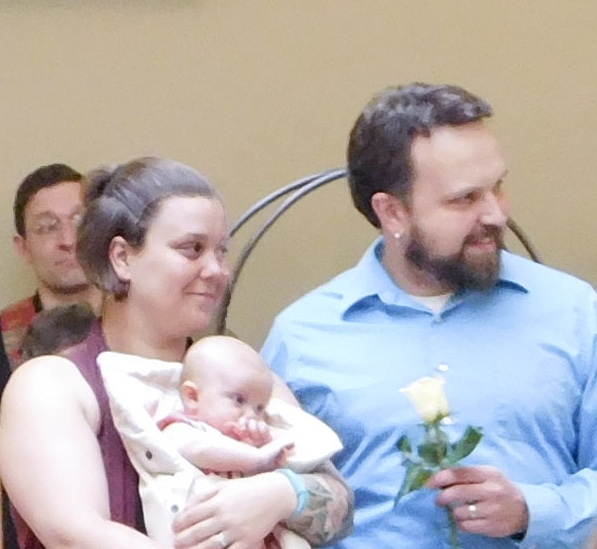 At our church you will find…
A Welcoming Congregation that will embrace you as you are.
Principles that bond us in worth and dignity, a search for truth, social justice, and connection with the web of Life.
Worship that meets your needs: traditional Sunday service, various gatherings, discussion groups and classes.
Groups you can join to learn and discuss, meet people and have fun, to serve the church, and serve the world through outreach.
Accessible parking spaces in our lot in the back of the building, more parking in the school parking lot next to ours, on-street space, and for those who are able to walk further distances, the Eugene Hearing and Speech Center parking lot accessible from 12th Avenue, north of our building.
History
For 50 years our church home was in south Eugene. Growing beyond our space, we spent over 600 days of remodeling our new building, almost entirely ourselves. We moved in 2011 to our current location at 13th and Chambers.
We are a strong community of spiritual seekers, ethical humanists, and believers in social justice. Our members identify with and draw inspiration from Christianity, Humanism, Paganism, Judaism and other religious and philosophical traditions.  For those seeking more information on the Unitarian Universalist religion, history and values, we invite you to view a short YouTube video about being UU. For those interested in the theology of the movement, visit the History and Development of UUism page.
We would like to get to know you!
• Please visit the Welcome table in the hall lobby for information and conversation with friendly people who staff the table.
• Fill out a Guest registration, get a name tag, sign up for our monthly newsletter, weekly UUCE-News email list – these will keep you abreast of future events and opportunities.  
• Attend a Newcomers Information Meet and Greet session, held on third Sundays each month (except in the summer). Read the Order of Service handout for time and place. 
More about UUism ~
View YouTube online video, Voices of Liberal Faith: Unitarian Universalism — This twelve-minute DVD shares important background information and inspirational messages about our religion including our history, theology, worship experience, religious education, social justice, and inclusiveness.
Unitarian Universalist Association of Congregations (UUA)