A New Day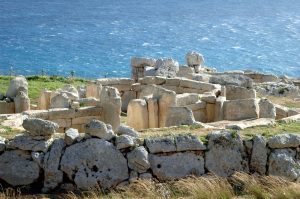 Sunday Handout September 17, 2017
Before dawn of the fall equinox, fourteen women and I eagerly made our way in the dark by foot to a Stone Age temple, Mnajdra. We had been on the Mediterranean island of Malta for nine days, exploring numerous Neolithic temples dedicated to Mother Earth still standing here. This morning's excursion was the culmination of our trip, to watch the rays of the rising sun illuminate the altar at the fall equinox.
We had agreed beforehand to maintain silence at least until sunrise. When we reached the top of the hill above the temple, we were told we had to wait there, still quite a distance from the temple itself, until closer to sunrise. My initial disappointment at this news drained away as I stood looking around me in the cool dimness before dawn. Only the sky was truly visible. A delicate quarter moon hung above, surrounded by stars. I had barely focused on them when I saw a shooting star sweep in a graceful arc across the heavens. I felt blessed to be standing on a hill in Malta above an ancient temple on a lovely night with nothing to do but enjoy the beauty. I realized I seldom take more than a minute or two to enjoy the sky at home. As I waited there silently for nearly forty minutes, the sky gradually lightened, making the stars vanish. The moon became a tiny sliver and then it disappeared. As the light grew stronger, the Mediterranean appeared below us near the temple, and birds began to sing loudly and insistently. By the time we were given permission to go down to the temple, I already felt fully nourished by beauty and gratitude."
for the full article, click here.